Existence and Resistance: The Trek of the Navajo Walkers Against Fracking
On January 16th, way out in a small town in called Cuba, we waited in a McDonalds parking lot for the Navajo Walkers. I'd read a little about the Walkers, but, like most of Project 562, I had no idea what to expect.
 As we sat idle in the fast food parking lot I was amused by the surprising hustle and bustle of this far out place: french fries and turquoise earrings for sale; ranchers, beggars and big haired Navajo debutants- all crowding in for a Big Mac. I think to myself, "What a conundrum of a place, it's so sad and greasy in the heart of one of the largest, culture rich reservations in the United States." Each face that enters is either Navajo (or maybe Pueblo), but the Biligana, or white man, are a rarity.
 In the midst of my pondering, three Diné women squished into a red rez truck arrived.  Kim, Theresa and Laura climbed into the Project 562 RV full of chuckles, excitement and great big hugs, super-excited to have us join them.  We agree to get on the road to rendezvous with the rest of the Navajo Walkers, but first, we need coffee. 
 We step into the dark parking lot where evidence of previous snowfall tickles the ground and we shiver from the rapidly declining temperature. We're approached by three Native men who are obviously intoxicated- public intoxication is not a stranger to us, unfortunately we've seen it before- especially in border towns. Only moments before, I had watched out the window as these men were dismissed by other passer-by-ers. But The Walkers didn't dismiss them. They instantly went into a motherly mode of care. Laura bought hamburgers for each of them and as she passed out the food she said, "We need you to be our warriors, come back to us."  
We reluctantly pulled out of the parking lot with the lost men in our rear view mirrors in search of the Ojo Encino Chapter House.
When we arrived Laura, Theresa and Kim started unloading their supplies as the cohort of peaceful protestors quickly jumped up to greet us. Within minutes we circled up and each of the individuals in the 40-some person circle began explaining why we were all there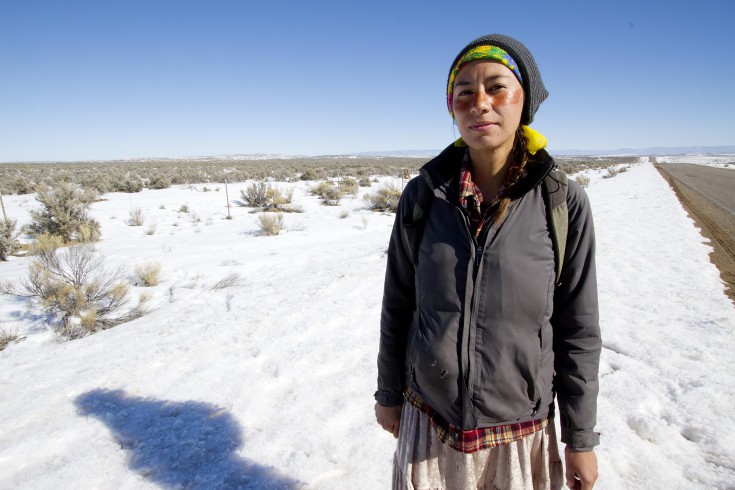 "Yá'át'ééh'",  began Dana Eldridge. "I've been walking with my brothers and sisters protesting a long legacy of issues facing Navajo people and this new naayéé' (monster), known as fracking. We gathered about a year ago as concerned young Dine' people and planned this walk. It's incredible and inspiring to see you all. Since January 6 we've walked 88 miles. It's been a mix of heart break, and extreme grief – especially what is happening to the land and people. But we've also encountered such beauty from families and communities. Last week we walked through ground zero of the fracking, around the route of 550, with so much non-stop industrial traffic . . . As we walked from Nayeezii to Counselor we wore respirators because the air is so fouled it gives you headaches. You feel the pain of our Mother. We've spoken to community members and they're very aware of what is going on, especially the young ones. Ten year old girls sadly told us the air stinks and trucks keep dumping waste into the earth. They evacuated their Christmas program at Livebrook Elementary because of an oil spill. They see oil flares about a mile from Livebrook. This reality is heart breaking . . . We're walking for change, but may not see the full benefits in our lifetime. We have to create that pathway so they can have a future.  Despite all the terrible, terrible things we're seeing and experiencing physically- at the end of the day, it's the siihasin(family). It's this hope that keeps us going. Ahéhee'."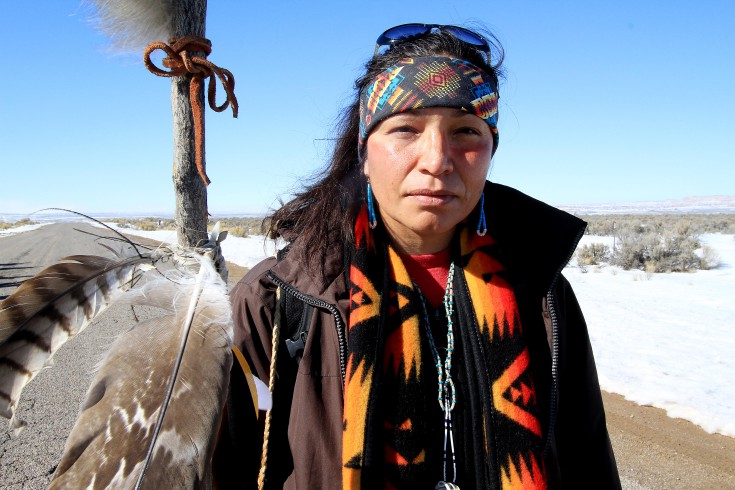 Next speaks Laura Red Elk.  "I'm from the Pueblo Pintada area. A year ago my family told me we were getting emails, saying "You need to sign (the fracking lease agreement) don't worry about what it is". I questioned everything.  When we figured out what was going to happen to our land we were devastated. My Grandpa taught me that our land is us. Fracking here is so wrong. I felt alone when this started. My sister Kim and friend Wysper and I asked, 'What can we do?' It's been powerful to have people unite; to hear these prayers; to be a part of these meetings; I'm really happy to see this. There has been a longing for it. We're torn apart by Western society and the governments' manipulations and deceptions; but this is a re-awakening. The hozho (balance) is coming back. If we walk, with our strengths, we will be able to slay the fracking monster. I just want to say, thank you. Ahéhee'. You're special and wonderful, my kinship. I don't feel so alone any more."
Americans recognize nationally fracking's dangers and toxicity. It was shocking to discover its terrible impact on Native peoples. Lease signings are acts of desperation - when over 42% of your people are unemployed, and this industry promises jobs, people have little choice. This repeats historical injustice to our people. Powerful forces demand resources and the underdog caves in. These ladies, the Walkers are trying to restore the power of choice. 
We stayed up most of that night discussing their cause. Then I dreamt restlessly of terrible oily monsters. I woke up to coffee and conversation, reassured to be with such courageous and visionary people. As the The walkers were getting suited up we interviewed Kim Smith:
We walked 10 miles with them that day. I thought that it would be easy for me since I'm a runner and I regularly log that many miles; but it was cold, the concrete was hard, and I found it more challenging than I could have imagined. As we left that afternoon, and I nursed my sore legs, I thought of the walkers, and all of the ground they had left to cover. I gained a tremendous amount of respect for them that day. It is easy to talk about change. But what are we willing to sacrifice for it?
The women reached Mt. Taylor after nineteen days and 226 miles. Kim Smith explained why she did it -  "It's my responsibility as a Dine' woman. This is modern scouting! To defend our communities and mother earth from injustices of the oil industry and from other injustices in our communities, we have to walk, see, explore. Violence on our land is violence to us. We could see it and feel it as we walked through. We have responsibilities as mothers and daughters. In our community, female leadership is frowned upon. But women lead this movement! We must go back to our holy people. It's different discipline and courage, but we're ready. 85% of Navajo Nation's revenue comes from extractive industries. We need alternatives. We carry the Southwest on our backs. No Superbowl without us! Navajo Nation energy and water powered that event."
This is the first of four walks. On March 21 the Walkers begin the 246 miles from the San Francisco Peaks to Mount Taylor. They need people to join them. Email nihigaalbeeiina@gmail.com for more information.