Project 562's Summer Update: Crisis and Faith in The Shimmering Waters
Hello!
So much has happened since my last report in January. The Project 562 "war pony" (actually a nimble and parkable Volkswagen Rialta RV: think of it as the ultimate rolling dorm room) has plied the wide lanes and byways of Interstate 10 across the southern U.S., welcomed into remarkable tribal communities such as The Ysleta Del Sur Pueblo in Texas, the Houma in Louisiana, and the Miccosukee and Seminole Tribes of Florida. I've gone on to head up the Atlantic seaboard, with amazing stops with the Choctaw and Eastern Band of Cherokee in North Carolina, and am currently in the Northeast preparing for an extensive trip to Tribal communities throughout New England and Canada.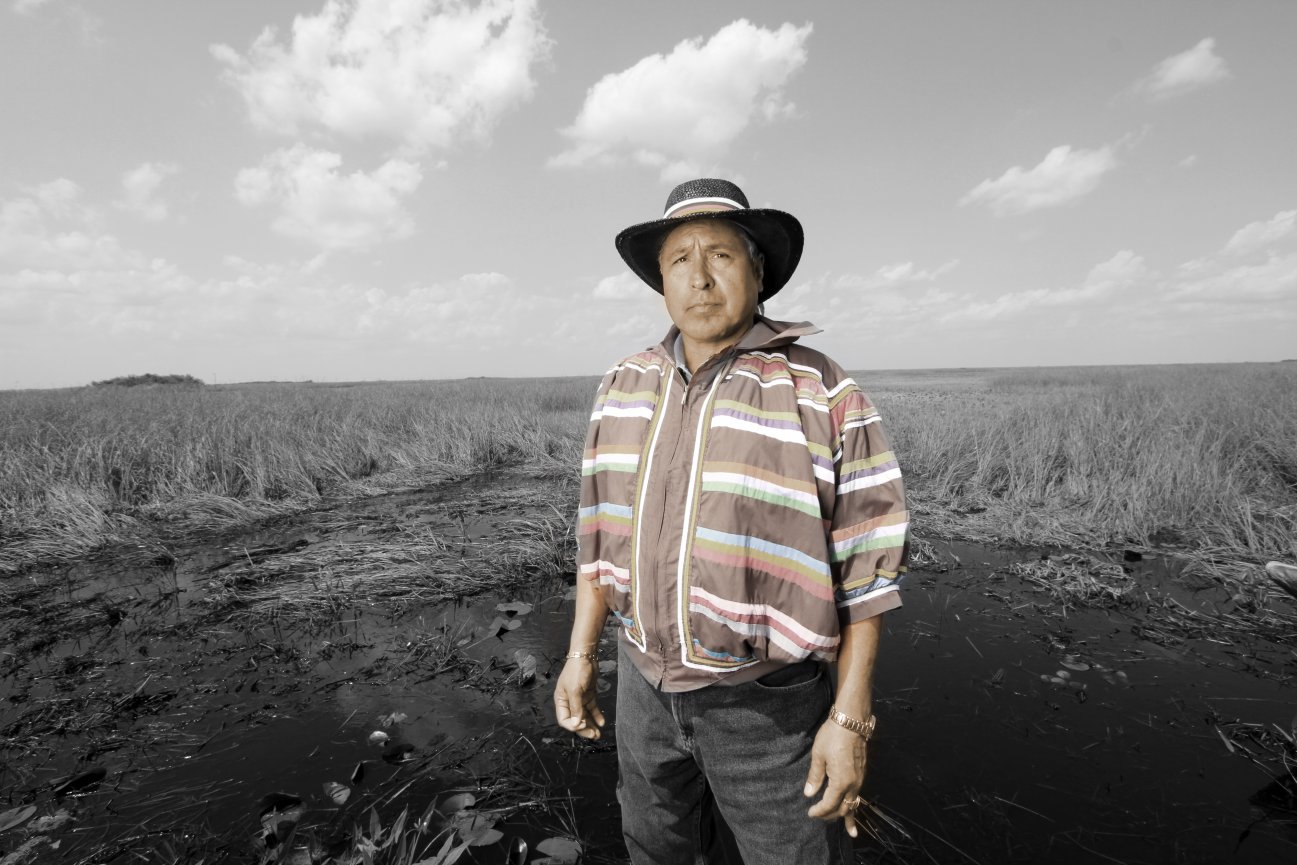 I want to share that in my southern swing I had a moving encounter with a remarkable culture-bearer and leader (one in the same, usually) who, as others have done before in this journey, opened my eyes to ominous issues affecting his tribe and the rest of us, but who also touched my heart by offering such inspirational wisdom, positivity, and hope. Michael Frank of Miccosukee, the Everglades, Florida, is a seer and guardian of his people and their natural home who in early life and now as an elder has been unshakably devoted to celebrating, protecting, and restoring this extraordinary ancestral territory. I had heard of the ecological frailty of the "shimmering water," as the tribe refers to this vast freshwater marsh, which in 1900 covered 11,000 square miles from around Lake Okeechobee south to the tip of the Florida Keys; today the Everglades is less than half that size and has been degraded and fouled by agricultural runoff, industrial discharge, all manner of dumping, and property development.

"Whenever I am called to protect my home, I make myself available," Frank shares. On numerous occasions, his sense of purpose has seen him lobby for the Everglades to all who will listen, be it in the Florida legislature, through peaceful protests, or to me, a roving artist and social documentarian in a coffee shop in Miccusookee eating French toast with him. Frank's dedication to the natural environment reflects his tribe's collective will (and that of others) historically to endure and overcome unconscionably hostile governmental policies and aggressive white settlement to remain in the Everglades as its caretakers and people. In the early nineteenth century, about 46,000 Native Americans were removed from the Southeast United States to re-settle west of the Mississippi through Andrew Jackson's infamous Indian Removal Act of 1830. The populations from the five "Civilized Tribes" (Choctaw, Creek, Chickasaw, Seminole, and Cherokee, so-called because in an effort to avoid displacement they assimilated white farming methods, education, and even slaveholding) and that of others, including the Miccosukee, were severely depleted, and as white settlement on Indian ancestral lands surged, the stage was set for conflicts (the episodic "Seminole Wars" of resistance) and the encroachment and despoliation of the Everglades that has led to its current critical loss of habitat, ecological imbalance, and horrid pollution.

Frank showed me the Everglades by air boat, whisking me to a mangrove island where he grew up and where I took the photograph you see of him. He recounted his wonderful way of life as a child of the Everglades – "Water used to be so pure that you could take a cup from the flowing marsh with no worry about drinking it directly." His family and community enjoyed plentiful fish and hunted for deer, bear, and alligator. Now, Florida and national health and wildlife agencies warn of consuming many varieties of fish, citing widespread toxic mercury levels in the Everglades. The tribe cannot safely fish any longer, compromising this crucial aspect of the culture along with many others because of the wounded condition of their homeland.

Mr. Frank, though, is a man of great and unwavering faith. Despite the extraordinary challenges the tribe has faced and a variety of continuing struggles, membership is a thriving 600 people with intense leadership commitment to their legacy and land. He utterly respects the land and advocates for its healing, knowing that this is crucial for his people to continue. He believes that being spiritually sick is the root of many social problems and related ecological crises. His tribe's environmental activism and rehabilitation strategies are expressly healing efforts, whose appeal improve the chance of seeing long term results. Frank realizes a truth I've encountered repeatedly in this journey - that tribal peoples' liberty, survival, and success cannot be achieved without sovereignty over sustainable land and waters. Tribal ecosystems are part of the beating heart of Native Americans, as it's always been, and I experienced this so inescapably in Miccusoukee's ancient, absolutely vital connection to the Everglades. Frank regards the Everglades as not only a part of one's tribal history but as part of one's identity, of the collective being and experience that makes a person who he is. It is this deep understanding that reinforces his purpose - "All our land is sacred . . . respect our sovereignty, respect our home, respect our tradition. We know they will destroy our home if we walk and talk like the rest of the world."

This statement may best sum up the work and nature of Michael Frank. In his presence I was moved by his profound loyalty to and personal, sensitive understanding of his amazing homeland. The photographs of Project 562 may never be able to convey the energy and feelings of the Native people who offer their realities and experiences, since a picture is just a fleeting and incomplete moment after all. But invariably people such as Frank have richly and generously offered me the chance to share their story, and I continue to be honored to try to do this.

Though Project 562 is way north nowadays, let me backtrack for a moment to New Mexico share another great encounter, since that is the essence of this experience.

I was so happy to meet Robert Mesa a photographer, actor and videographer. Robert spends his life dedicated to learning about his Navajo and Soboba heritage, while using his art to tell powerful stories.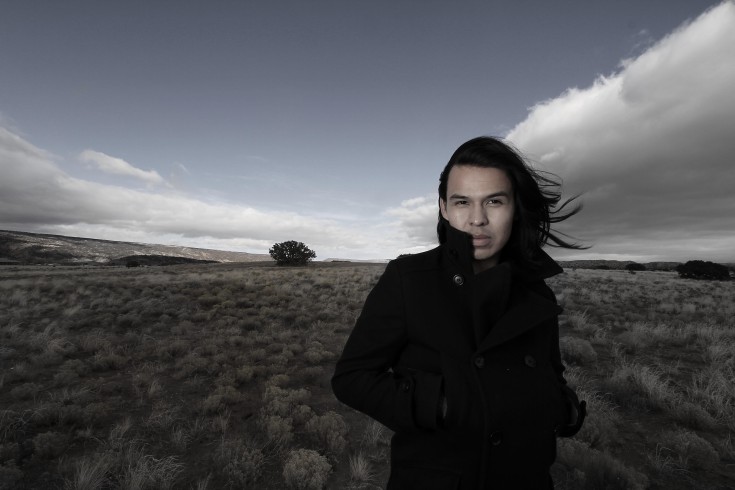 Robert is an exemplar of strength. One of the reasons I love this photo is because in his expression you can see how powerful we can become when we know who we are, while being connected to a cause that brings spiritual peace. Robert was not always connected to his ancestors, as he spent the early years of his life in and out of the foster care system. In adulthood he has reclaimed his ancestral identity and not only has produced powerful art, but also works to increase awareness for others.

Robert recently held his first opening at El Museo Cultral de Santa Fe and his work will be shown in China during 2016. He shares deep enthusiasm for the work we are doing - "When Matika told me she was heading down, I felt like Christmas was coming early . . . I've learned so much from her as a photographer and just how crazy beautiful it is to follow what your soul wants. I love the hidden smiles she finds in others, it is brave."

Robert Mesa is an excellent example of how powerful it can be when we own our heritage and through our total identity graciously give back to others. His spirit shines through his work and I am touched by the remarkable photo he allowed us.
Summer Travel Schedule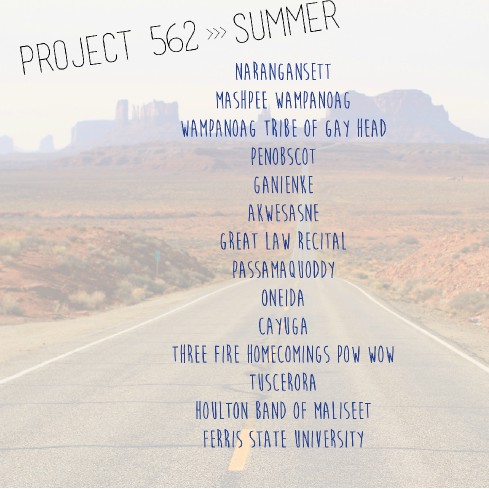 July 11-14: Narragansett Indian Tribe of Rhode Island

July 14-17: Mashpee Wampanoag Indian Council

July 19-21: Wampanoag Tribe of Gay Head (Aquinnah)

July 23- 24: Penobscot

July 25: Great Law Recital in Akwesasne

July 28 & 29: Ganienke

July 30- August 2: Akwesasne

August 3-6: Passamaquoddy

August 11-15: Oneida

August 16-19: Cayuga

August 20 & 21: Seneca

August 22 & 23: Three Fire Homecomings Pow Wow in Ontario

August 24-27: Tuscerora

August 31- September 3: Houlton Band of Maliseet Indians

September 4-6: Aroostook Band of Mission Indians

September 9 & 10: Project 562 Speaking at Ferris State University

September 10- October 23: Photogrphing Tribes in Washington State!

Upcoming Exhibitions

Ferris State University

I am ecstatic to announce that I will be showcasing a selection of twenty Project 562 images at Ferris State University this fall. The "Project 562 Campus Collection" will be on display September 1-26 at the Fine Art Gallery on Campus located at 820 Campus Drive, Big Rapids, Michigan. I will be offering a lecture on Wednesday, September 9, at 5:30 pm. For more information, please visit www.ferris.edu/gallery or call 231-591-2000.

Hibulb Cultural Center

Please save the date for the next Project 562 Exhibition scheduled to open on October 23, 2015 at the Hibulb Cultural Center in Tulalip, Wa. This exhibition will showcase images related to the incredible encounters I've had in the last three years on the road. Please stay tuned for more information...

Surdna Foundation Press Release

Wonderful news! With the collaboration of the Tacoma Art Museum, our great hometown partner, we received a large grant to strengthen Project 562's scope and operations and to increase public access.

Our goal to change the way we see Native America continues with the support of the Surdna Foundation grant. Out of 1,000 applicants, we were one of 15 projects funded. When this project began, my aim was to document contemporary Native American Culture, using portraits and narratives to overwrite stereotypical representations, historical inaccuracies, and the absence of Native American images and voices in mass media – in other words, to shift fundamentally consciousness about our peoples. The Surdna Foundation grant affirms the work we are doing. I've attached the press release, and cannot thank enough Surdna and my wonderful collaborators at the Tacoma Art Museum!

______________________________________________________________________________________

1701 Pacific Avenue, Tacoma, WA 98402

MEDIA RELEASE

June 24, 2015

Media Contact: Julianna Verboort, 253-272-4258 x3011 or JVerboort@TacomaArtMuseum.org

Surdna Foundation Grant Awarded to Northwest Artist Matika Wilbur

Tacoma, WA – Seattle-area photographer Matika Wilbur, Swinomish and Tulalip , in collaboration with Tacoma Art Museum, has been awarded a 2015 "Artists Engaging in Social Change" grant from Surdna Foundation. From more than 1000 grant applications, Wilbur is one of just 15 artist recipients, receiving $157,000, the largest grant. The award supports Wilbur's Project 562, a nation-wide endeavor documenting contemporary Native American culture through photographic portraits and narratives from each federally recognized Native American tribe. Project 562 is the basis for compelling exhibitions, presentations, articles, books, and curricula that creatively surmount stereotypical representations, historical inaccuracies, and the absence of Native American images and voices in mass media and the national consciousness.

The inaugural exhibition of Project 562 debuted in spring, 2014 at Tacoma Art Museum to rave reviews from visitors, exceeding18,000, and in national and regional press. Wilbur's beautifully rendered portraits and stirring recordings from select sitters examine the Indian image across socioeconomic and intergenerational spectrums, from tribal to hardcore urban, traditional elders to assimilated teens, conveying the diversity among Native communities and individual experiences. Her provocative work exposes the strength and richness of contemporary Native life and is profoundly shifting collective consciousness toward Native Americans.

The Surdna Foundation grant to Wilbur is an affirmation of the power of her work. "I am overwhelmed with gratitude for the Surdna Foundation's support," Wilbur says. "Their contribution will fundamentally improve our team's efficiency and dramatically increase public awareness of Project 562. For hundreds of years, our ancestors have been calling for authentic stories of our people to be told. I believe Project 562 is being guided and protected by our ancestors, and we raise our hands to the Surdna Foundation as a source of strength and for believing in our mission to change the way we see Native America."

To date, Wilbur has driven over 150,000 miles for the project in the United States, having visited about 300 of the 567 federally recognized tribes. She has been welcomed into rare experiences, allowed images, voices, and ideas that have never before been represented. Rock Hushka, TAM's Chief Curator, affirms Wilbur's role as an inspired and unprecedented messenger: "We are grateful to Surdna Foundation for recognizing the quality and power of Matika's work with this grant award. She has a rare combination of immense creativity, tenacity, and tremendous sensitivity. Project 562 provides crucial cultural understanding, capturing with unparalleled clarity the vibrancy of contemporary culture along with political and social issues of primary concern to Native Americans across the nation. We look forward to a continued relationship with this remarkable artist and future iterations of Project 562".

Surdna Foundation's Artists Engaging in Social Change grants are designed to support individual artists, culture bearers, and nonprofit organizations whose work helps to inform, engage, or challenge people around specific social issues. Projects receiving funds were selected for the quality of the artistic practice and dedication to exploring critical themes that arise from, or impact a community; and for the project's capacity to enable social change.

Surdna Foundation's President Phil Henderson comments, "In an era of accelerated and often dramatic social and demographic change, artists and culture bearers play critical roles within our communities helping us understand and challenge pressing issues. Their visions, communicated through film, performance, text, spoken word and other forms can help communities achieve a sense of connectedness and common purpose."

_________________________________________________________________________________________________________

Proejct 562 File and Archival Management Position for Hire

Tacoma Art Museum, Tacoma, Wa

A fellow is needed to begin transcribing and managing digital content according to industry standards. In addition to enhancing the entire project's efficacy and preparing for the final publication and exhibition, such digital file maintenance is necessary to make Project 562's portraits and stories freely accessible, allowing these works to serve as an enduring and important new education resource.

Please contact info@project562.com if you are interested.

_________________________________________________________________________________________________________

As always, I remain grateful for your love and support.