Upcoming Adventures in 2015!
Hello Lovely!
Project 562 is starting off 2015 with a bang! Currently, Project 562 is visiting Pueblos in New Mexico, and once completed, we will be making our way back towards the East Coast. This is our upcoming project route: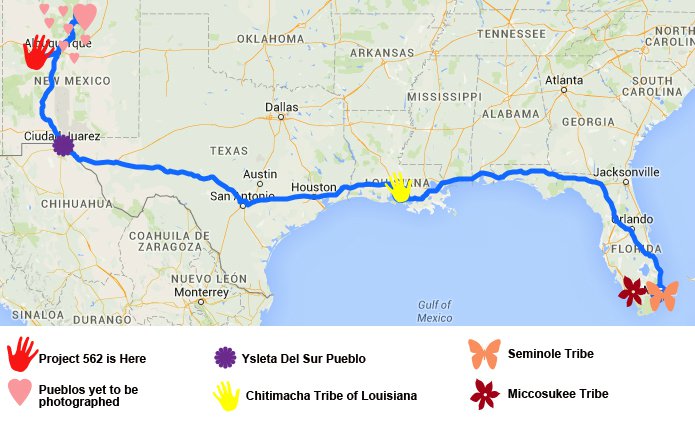 The Pueblos that remain to be photographed are Sandia, Zia, San Felipe, San Ildefonso, Santo Domingo, Pojoaque, Nambe, Tesuque and Picuris. If you have any suggestions for us, we welcome your input, please email m@matikawilbur.com with details. 
Make Movies With Us!
We are incredibly excited to tell you about our new Project 562 film series and invite you to be apart of it. We are seeking 12 filmmakers to join Matika on the road throughout 2015 (one filmmaker for every month). For the last year, Deidre Peaches of Paper Rocket productions (and the creator of our Kickstarter film) has been accompanying Matika on the road to document the daily doings of Project 562 with the intention of eventually creating a full length documentary.  The time that Peaches and Matika have spent together on the road has been truly incredible, but alas, Peaches needs to get back to her office to begin the editing process... which means that we now have space to invite filmmakers to collaborate with us! Our goal is to create at least three short films per month for our audience to stay up to date about Project 562! If you are interested, or know somebody that may be interested, please email us! Check out our newest films from December's visits to New Mexico's Pueblos: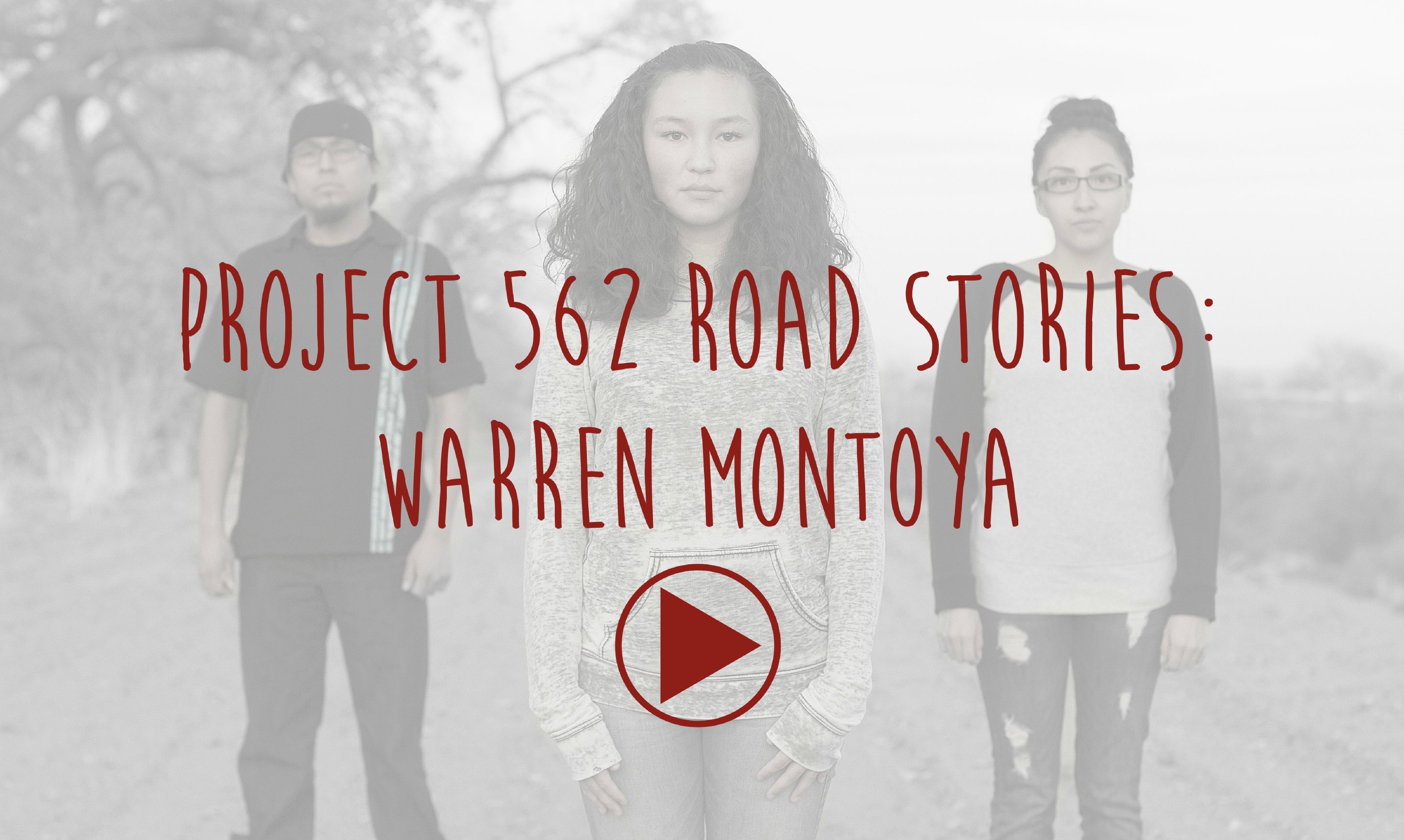 Project 562 interviews and photograph Warren Montoya from the Santa Clara Pueblo.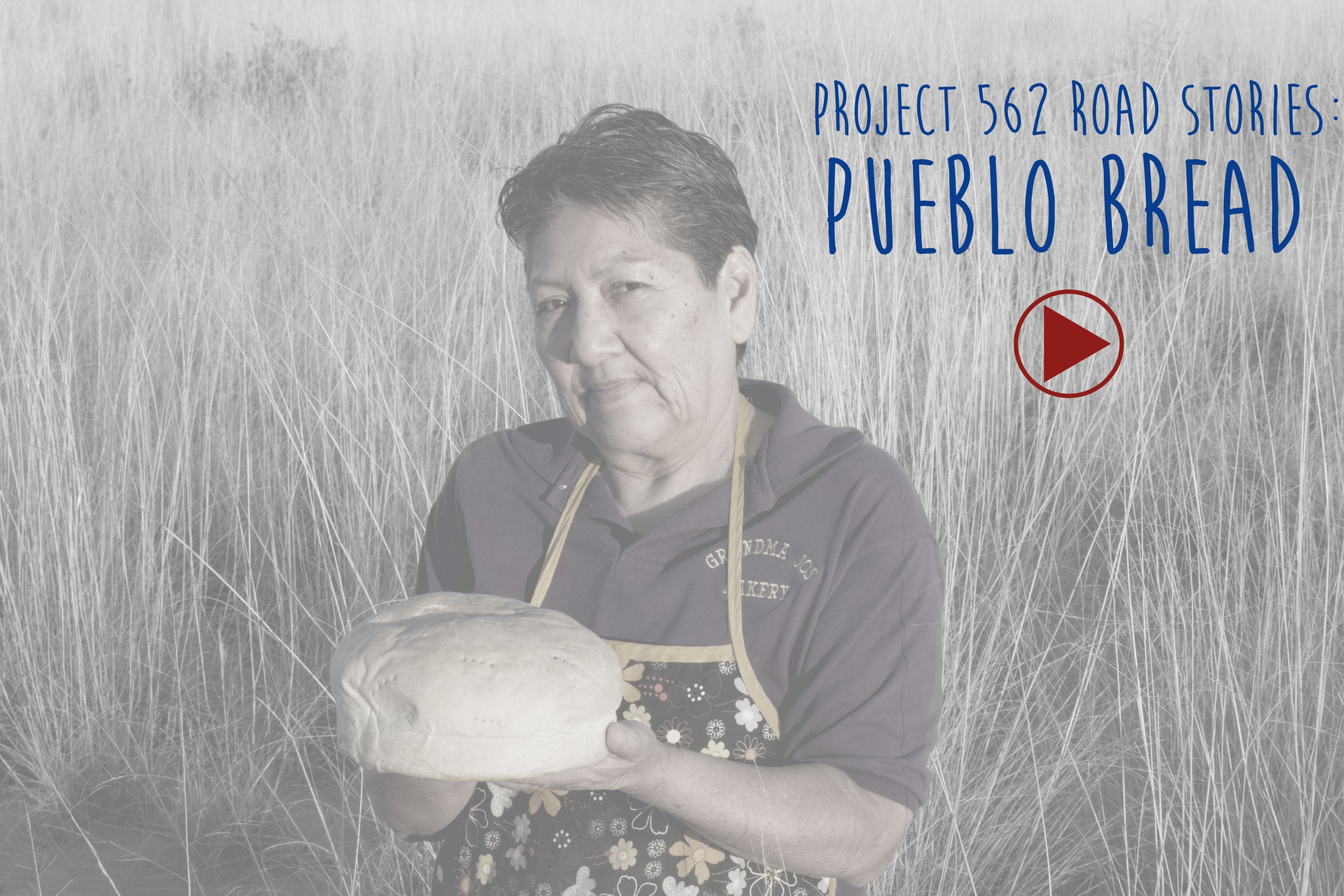 Project 562 visits Grandma Joes Bakery in the Pueblo of Laguna.
Goodbye 2014!
Thanks to all of you, 2014 was an incredible year for Project 562: Matika visited over 100 tribes, raised $250K with our Kickstarter, opened the inaugural exhibition at The Tacoma Art Museum, debut on NBC, The New York Times, MTV, Upworthy, and invested in the Matika Wagon to make Project 562 even more mobile!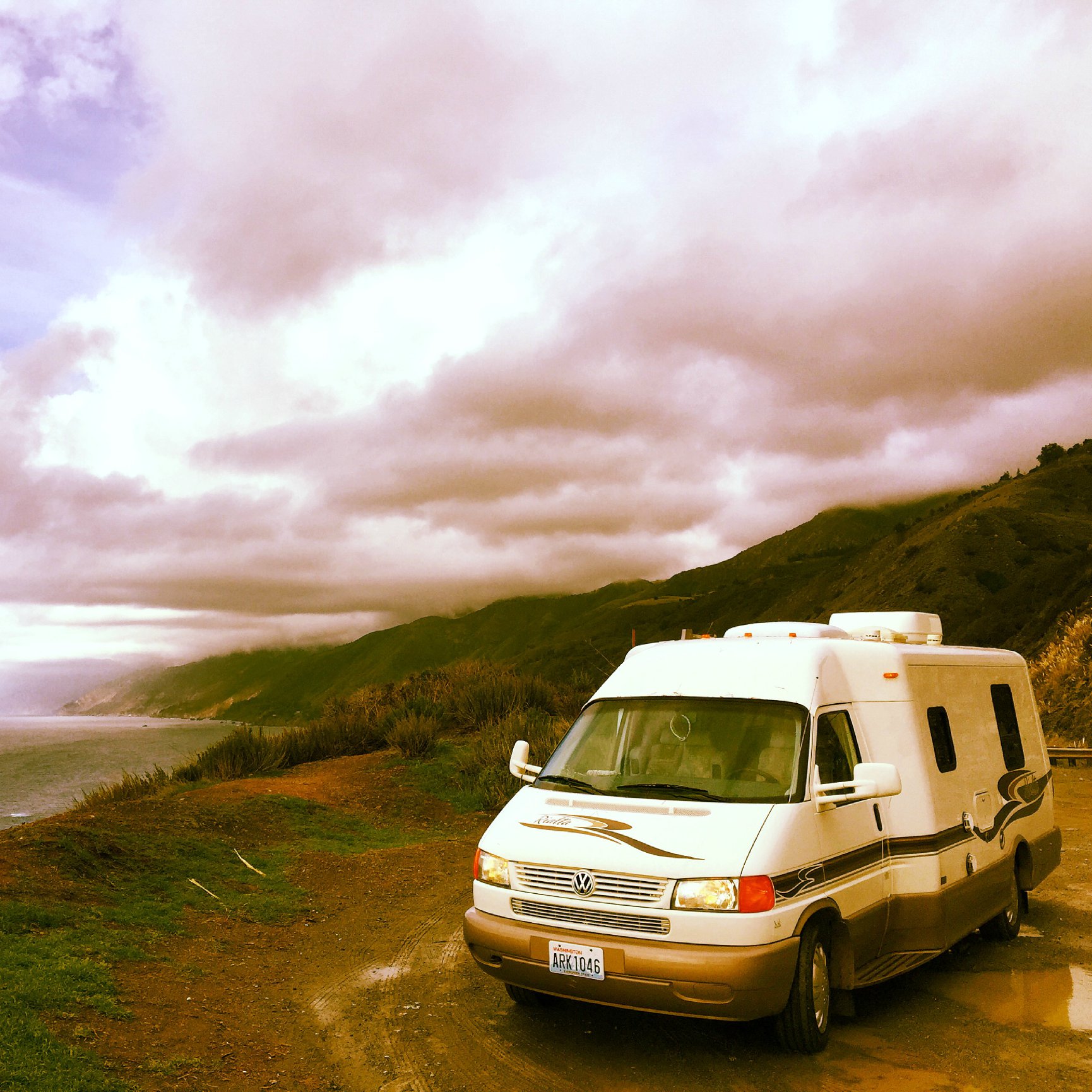 This is one of our favorite photos in the wagon along Big Sur's incredible coast as we were making our way to New Mexico. She's a 2005 Volkswagon Rialta, and she gets incredibly great gas mileage. She still remains nameless, so drop us a note if you can think of a good name for her.  *Special shoutout to Mr.Winn for finding her for us, thank you!
To recap 2014, we'd like to share a few stories with you:

On Saturday, Project 562 joined Diné women on their #JourneyForExistence- an effort to encourage the indigenous uprising to oppose fracking and extraction from our Mother while returning to the sacred. Walkers are on their 12th day of the epic 200 mile walk, ending at Tsoodi (Mt. Taylor) in an estimated two weeks.
"We are walking to honor the resiliency of our ancestors who 150 years ago were forced to march hundreds of miles in the dead of winter on a genocidal death march," says Dana Eldridge, one of several female organizers of the walk. "They sacrificed and suffered so much so that we could live within these four sacred mountains. So we're walking to honor them." (ICTMN quote)
These women say that the walk is not simply a re-enactment of The Long Walk, but their return to traditional lifestyle.
The walkers are asking for people to join them on their walk, if this interests you, please email: nihigaalbeeiina@gmail.com.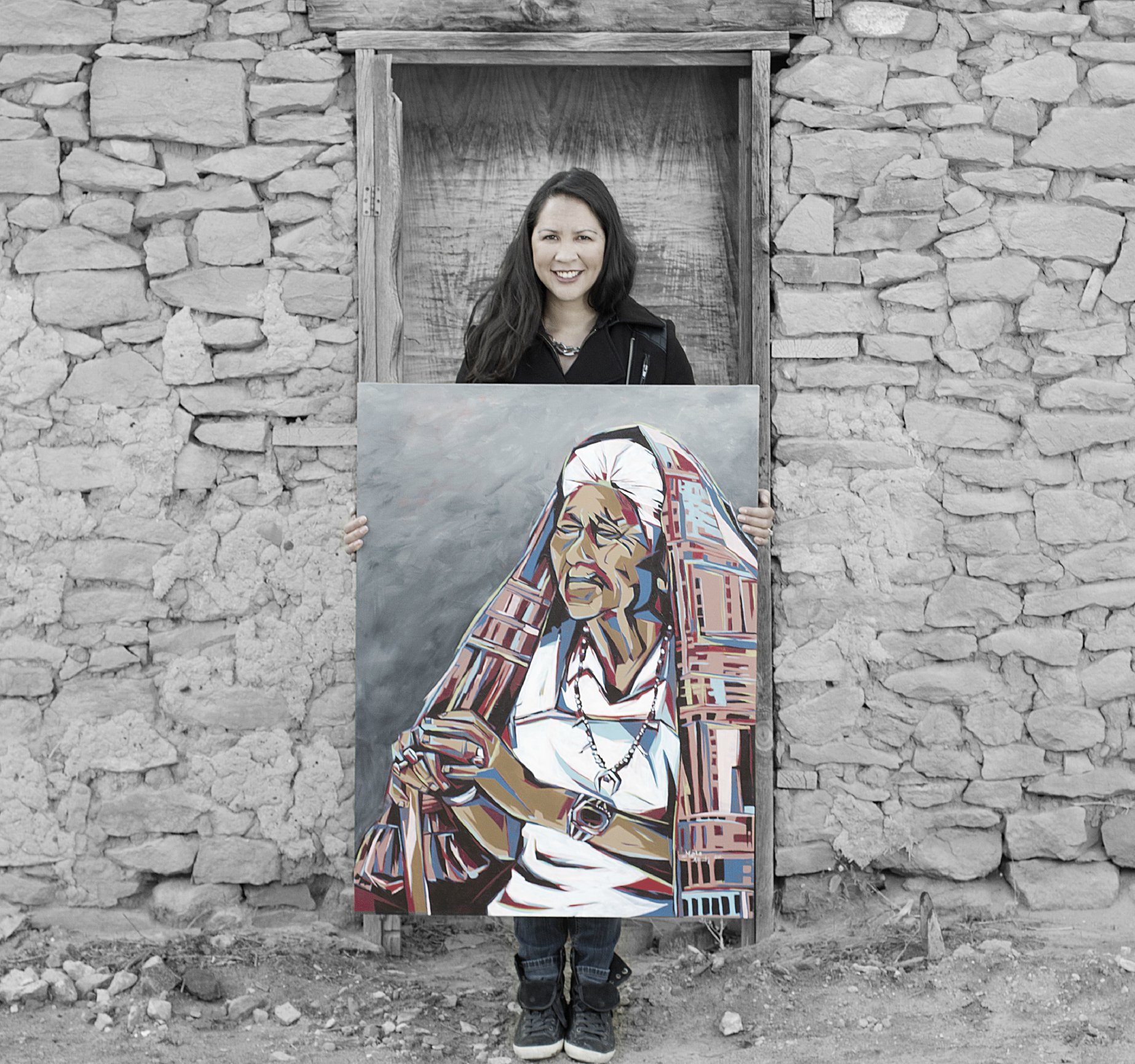 What is your favorite part about being an artist?
"That's a good question. There's a lot of things I like about being an artist. I like every part of it. I like being a role model to my nieces and nephews and all the kids in the Pueblo. I like that I can call my own hours and still visit my Grandma in the afternoon. I can sit and paint and its' meditative process fills me with every bit of happiness. I like that if I'm having an emotionally rough day, if I sit and paint for a couple of hours that emotion is gone, and mellow, and I've found my peace again. It's my Zen."
-Marla Allison, Pueblo of Laguna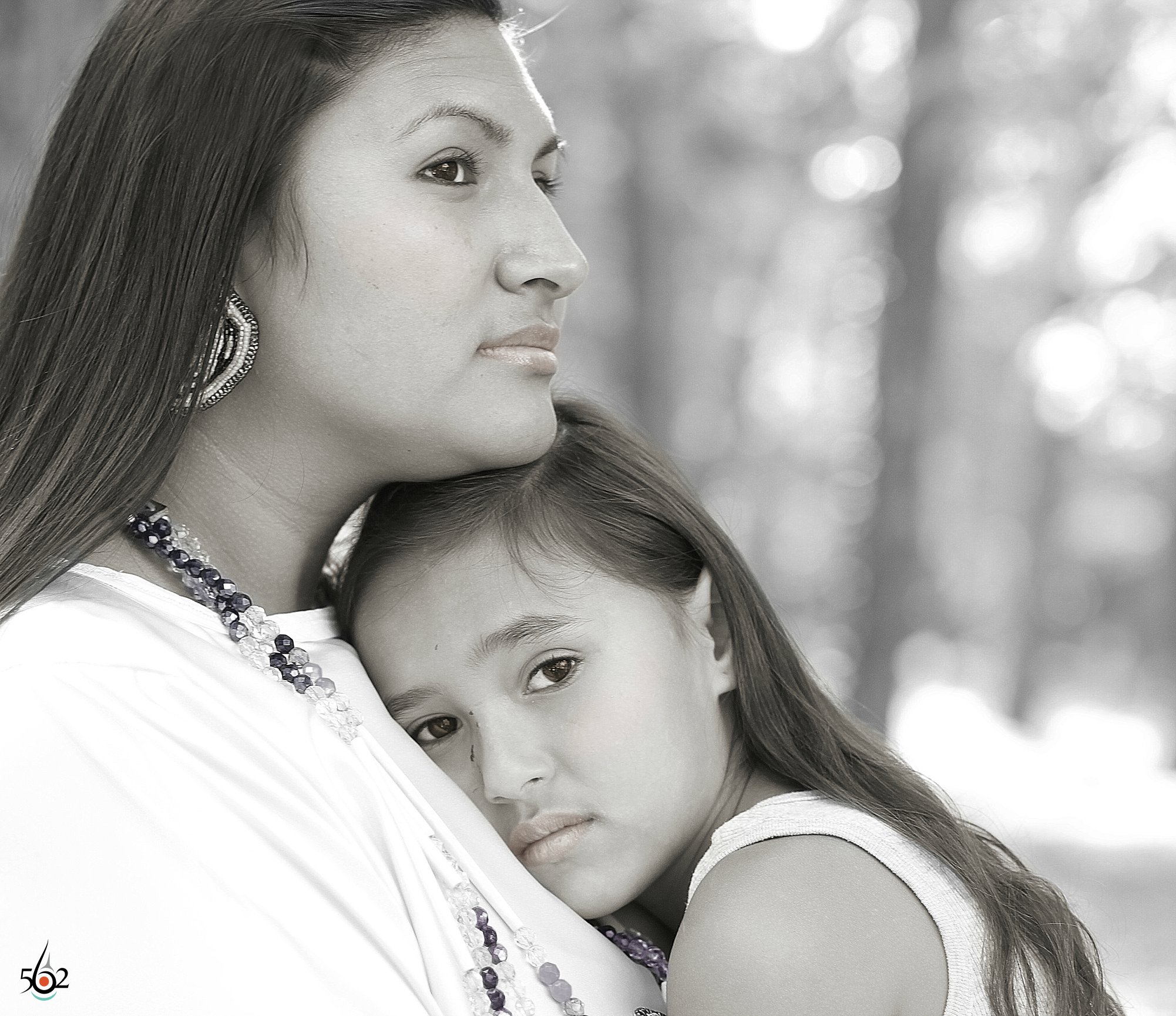 Why did you name your daughter Heaven?
"The real reason is because my whole relationship ended badly with her father. When I was 9 months pregnant he left me for another girl. Everything about my spirit was completely broken. I told you about how our people here are rooted in our Christian faith- I knew that God said that 'our children are our greatest blessing'. I knew that when she got here she would take all my pain away. Because my self esteem was shattered. Right when she was born, I knew that she was my greatest blessing. She was my piece of Heaven. She took all that pain away. She healed my broken heart."
What is your favorite part about being a mother?
"I know that I have someone's life in my hands. I am able to mold her life into something extremely beautiful, so that years down the road, she can look back and say, 'She taught me how to be a young woman; she taught me the ways of my tribe, my ancestors, my culture, the way that I'm supposed to live'. It's also scary because I don't want to fail my kids. I try as a Mom to be the best Mom that I can be. I try to make wise choices- and I just pray that she'll take everything that I've taught her and carry it all through her life."
-Crystal and Heaven Battise Stevenson
Alabama-Coushatta Tribe of Texas
Indigenous Warriors Initiative: Summer Wellness Camp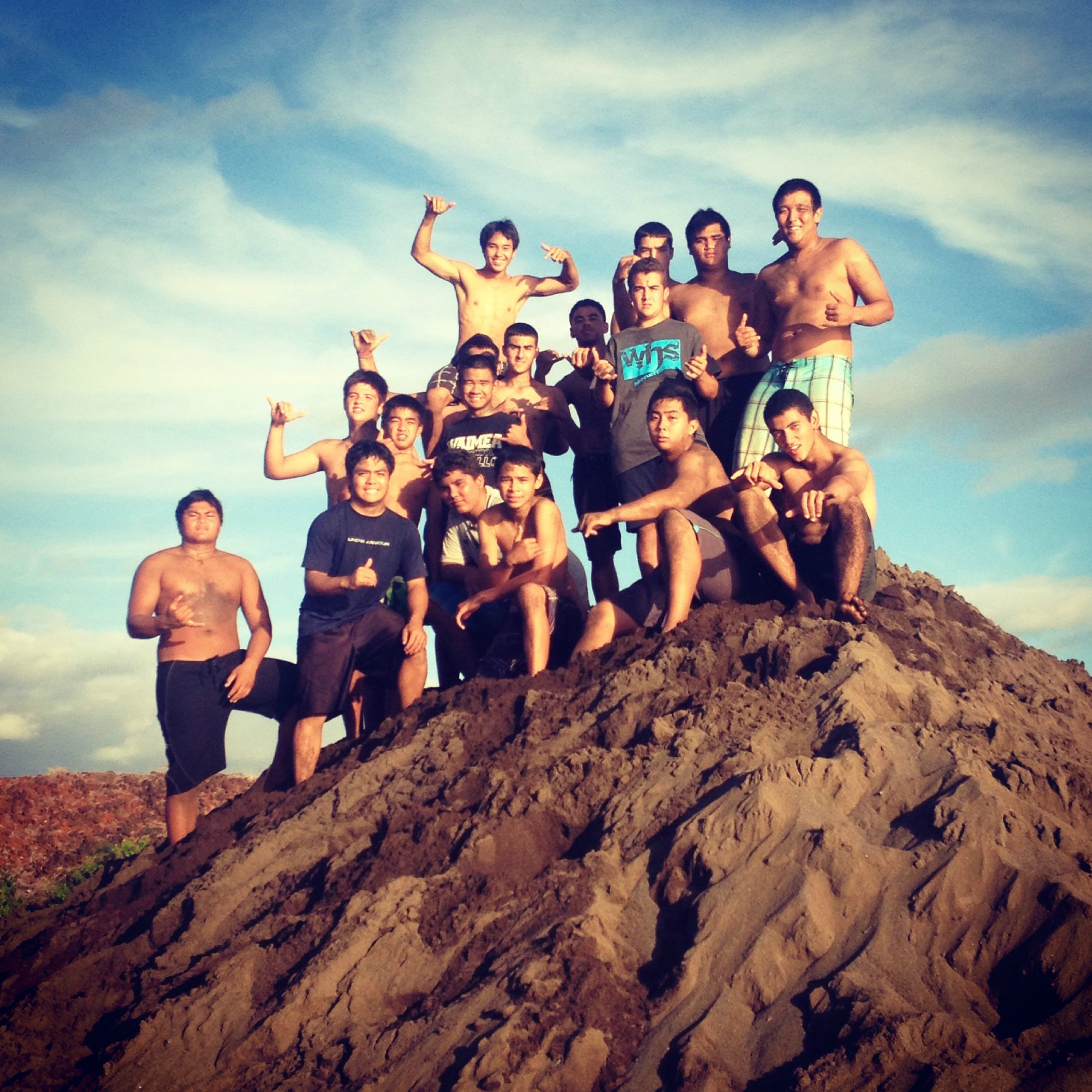 Project 562 has partnered with The Indigenous Warrior Institute (IWI ) to be apart of creating positive experiences for Indigenous Youth! June 10-20, 2015, we will be offering a 10 day summer wellness camp where students will learn to live as Indigenous Warriors by being exposed to time-honored cultural practices deeply rooted in traditional Hawaiian knowledge. Students will have the opportunity to learn and participate in:
• Ola Pono: Living A Balanced Life
• Hana Lawai'a- Traditional Fishing Practices
• Hoe Wa'a- Traditional Forms of Ocean Navigation
• Hana Mahi'ai- Traditional Farming Practices
• N' Mea Kanu -Native Plant Medicine
• N' Mea Hawai'i- Traditional Expressions of Art
• Ahupua'a: Traditional Land Divisions
The longterm goal of IWI is to work with the same core group of students for a duration of three years. In essence, the 20 selected participants will form a cohort of students that will first participate in the Hawaiian culture camp (summer of 2015), then participate in a NorthWest Coast Culture camp held during the Canoe Journey (Summer of 2016) and finally participate in a Paiute immersion camp during the Yosemite Walk (Summer of 2017). Students will be encouraged to bond with each other, creating lasting friendships that will hold each other accountable to live and promote the "Indigenous Warrior Life"; which is to pay the greatest respect to our ancestors by being positive, productive and proactive, every day of our lives.
Please click here to visit the IWI website and learn more!
Upcoming Project 562 Appearances
February 9, 2015: Norfolk Academy
February 19, 2015:  UC Berkeley
February 20-23, 2015: Independent Project Press, Bishop California
April 15, 2015:  Michigan Tribal Education Directors Association's annual conference
Get Involved
Become our friend: Follow us on Facebook , Instagram  and Twitter!
Sponsorships: If you would like to become an official Project 562 sponsor, please contact m@matikawilbur.com. 
Internships: Project 562 is currently accepting applications for Interns to travel with Project 562! If you are interested please fill out this form.
Thank you all again for your continued support and well wishes. I am excited to continue photographing our people and to make more connections with more communities. The Project 562 Team and I look forward to improving ways we share the mission of Project 562 with even more people. Have a blessed week.
Love,
Matika