Decolonizing Sexuality At The Largest Two-Spirit Pow Wow In The Nation
Talk to any Indian, and they will have a powwow story for you. We've all been to powwow's. We grew up with them. Maybe we hated them. Maybe we couldn't wait for the next one. Maybe the powwow was off in the distance like a bucket listed Grand Canyon. Nonetheless, we know powwow.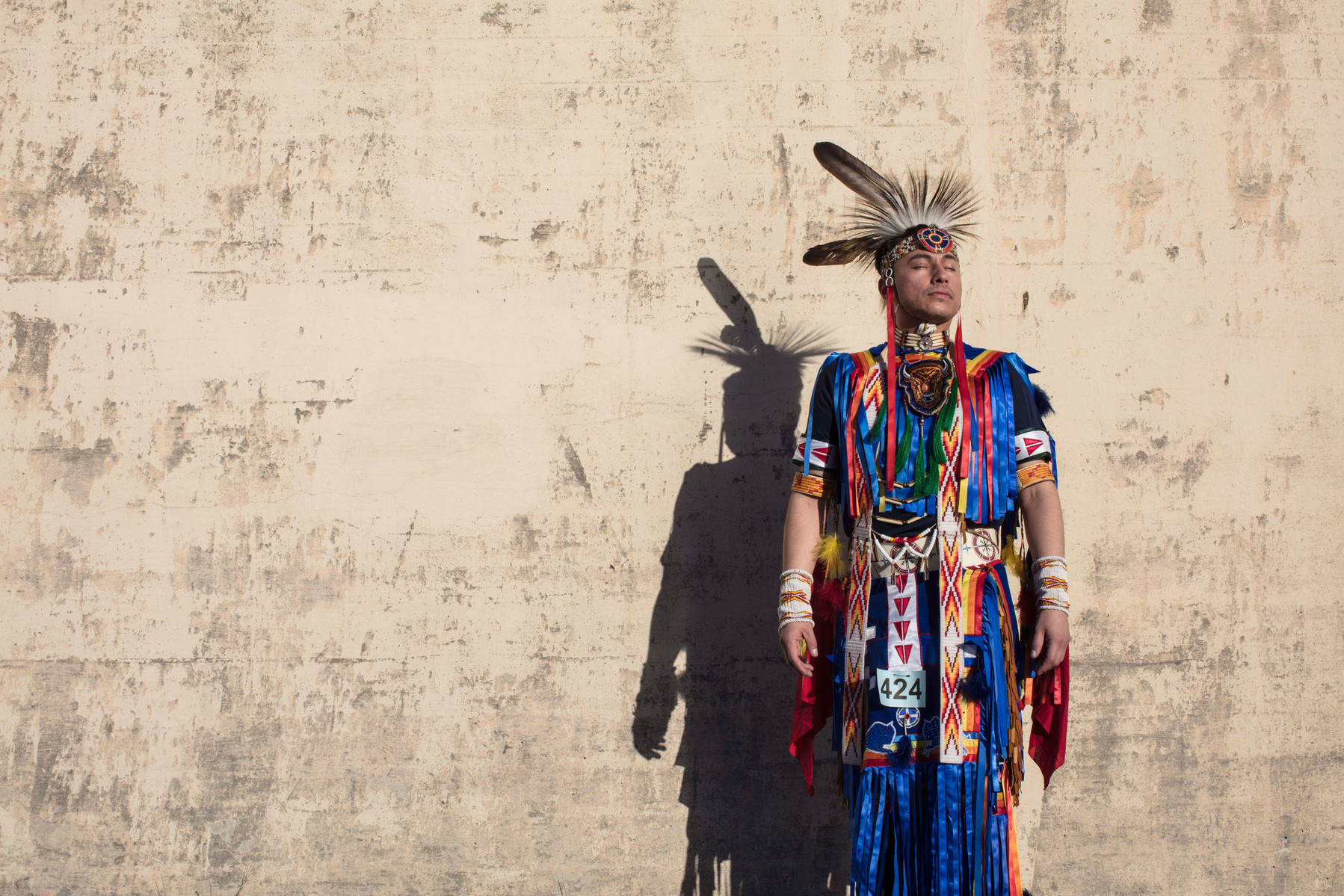 Sheldon Raymore, Cheyenne River Sioux
When colonization took hold of our communities, every aspect of our cultural belief systems were at risk. The removal of language, song, dance, and forced religion caused an earthquake in our own epistemologies. In many of our communities, our traditional ceremonies were made illegal, but through ardent resistance, the powwow emerged.
The powwow has taken on a life of its own- each powwow is a little different depending on where it is hosted, who hosts it, and how their customs have been integrated. Last weekend we went to one of our favorite powwows, which happens to be the largest native LGBTI gathering in the nation, at San Francisco's Bay Area American Indian Two Spirit (BAAITS) Powwow.
All of the quintessential powwow attractions were present. Vendors came out in full force: Buffalo Burgers. Frybread. Beaded everything. Native Pride T-shirts. Turqoise. The M.C. joked between dance performances while drummers sang at the top of their lungs. The jingle dresses chimed, moccasins kept the beat, grass dancers dipped, the competition felt fierce.
But when we took a moment to look closer, we felt the palpable exhalation of true self revelation- a safe space for powwow expression that isn't always accepted. We saw drum groups comprised of all women singers. We watched as dance participants stepped away from colonial gender roles and presented as themselves, some for the first time. Men danced jingle dresses, women danced grass, people were encouraged to dance as their spirit felt.
I strongly believe in sexual sovereignty and decolonizing sexuality. Oftentimes we think of decolonization as only decolonizing land. It's also important to remember that when you're decolonizing land you're also working to help the colonized people that actually live on that land. And if we actually think about it and go back to centuries of research that has been conducted, not only by non-native scholars but also within tribal communities, you will see that these issues were a part of tribal identities long before Christianity ever took root in what is now called the United States or Canada.
Roger Kuhn, Poarch Band of Creek Indians, BAAITS Chair
"Every time Grand Entry happens I just get so incredibly moved that there is a space for me. There is a place where I belong. And there is a way in which I've always felt very othered in my life of course being mixed race but also then two spirit and being gay. There's a way I've always felt so othered in the world but to come here I'm no longer othered I'm the norm and that's a beautiful feeling every now and then just to feel like you just get to blend in. You just get to be one of many that are here and to be seen for who you are to be appreciated. Maybe most importantly to be loved." - Roger Kuhn
Spider, Tsalagihi Ayeli
"I was speaking to someone earlier about what it has meant to be a Two Spirit in this day and age. In an age where if we tell others that we are Two Spirits, they believe that we are poisoning others. When once upon a time we were medicine, we were considered healers and sharing our stories healed others and helped them grow- and so we went hiding. All of us hiding believing that we were poison. But I think that the true poison is hiding and I think that the more people who share their true spirit with others, the more healing will spread." - Spider, Tsalagihi Ayeli
John Sneezy, San Carlos Apache - Head Man Dancer
"I felt honored to be asked to be the head man dancer this year. I came into grand entry as a grass dancer then I did a wardrobe change and put on the Apache wing dress for my special 'team dance fancy style' with my best friend Lacey. It was really a good combination to have an LGBTQ along with their ally, or you know 'their straight best friend'. I called my special 'unifying our spirits through harmony' to bring together the two spirits and the 'straight spirit' and they're dancing together in harmony. It was a way to show that we can all be as one. We are actually all as one."
There is magic at the Two Spirit Pow Wow. Our people feel safe to be themselves. Like cramming into ill-fitting shoes that make you limp, bleed, and become disfigured- society's oppressive gender normative constraints suffocate and weaken us. These constraints come off at the BAAITS powwow.
No words could better describe the magic that happens here than this brief interaction that we witnessed between a questioning 8 year old boy and an adult dancer.
Boy: "I've never met any Two Spirit people. I think I might be Two Spirit but I'm not sure."
Dancer: "As you get older, you will understand yourself better"
Boy: "When did you know?"
Dancer: "Oh I knew when I was five years old, but I didn't tell anyone for a long time"
Boy: "I don't want to tell my friends. They make fun of me already. If I told them I was Two Spirit I think they would hate me"
Dancer: "Kids can be really horrible to each other. When you grow up, it will get better. Some people will love you even more for being who you are"
Boy: "Could I wear women's regalia too?"
Dancer: "Of course. Honey, if you want we can make you women's regalia to dance in"
Boy: "I think I would like that"
Miko Thomas, Chickasaw
"If we can change the lives of those young Two Spirits who are afraid now and who are so scared of being shunned, it's important to have spaces like this so that people can see that we are part of the Native community and just like everyone else." - Miko Thomas
"I tried to imagine like what kind of advice to give Two Spirit youth. Just be you, just be yourself. Seems like such a simple thing. It's incredibly difficult. Unbelievably difficult in this world when it shouldn't be. That's what I would want to say. Be yourself. Even if the cost is really high.
I think that they would see more people decide to be themselves. All of us would see people being who they are and the easier it will be for everyone. Which is why you have to do it. That's why you have to." - Spider, Tsalagihi Ayeli
Ben Geboe, Yankton Sioux Tribe of South Dakota, Executive Director of American Indian Community House in New York City
"Colonization happens on many different levels and so decolonization also must occur on many different levels. This [decolonizing sexuality] is one of them. Sometimes it's familial, sometimes it's the tribal unit, sometimes it's the actual interfacing with the United States government. As you know there are probably about 25000 legal cases right now in courts of law against the United States by Native communities for the rivers, the mountains, the lakes and the air. It's not a passive or ideological battle. It's an actual exchange where we're having to sue the United States for own rights and there are about 95 cases against the Canadian Crown. We as an Indigenous people are continuing to live along that trajectory of always having to stand up and resist and redefine who we are and reassert who we are." - Ben Geboe
Xochitl Selena Martinez
"My advice for you for younger trans folks right is to stand strong, hold your head high, and be proud because your identity is you it's who you are. For me growing up here in San Francisco, I had no idea what transgender was. I remember being like maybe 14 or 15 and walking by a pornographic store on Market Street and there were these fetish magazines with transvestites on the cover and that freaked me out. I thought, "That's not me". Back then, I felt there was no support for me, you know. None. And it breaks my mom's heart.
She says 'If I had known when you were 10 years old I would have been there for you.' I'm her oldest daughter now.
I can't go back but I'm grateful and proud that I get to be the generation that helps make our youth feel safe and strong in their self identity because it's those youth that are the ones that really create change. It is a an honor and I have so much gratitude to be able to be an elder. To share this with them and to lead the path. - Xochitl Selena Martinez
Tony Enos, Cherokee
Vanessa Losey, Salt River Pima
It took a lot of folks to put this piece together. We'd like to send a special shout out to John Sneezy and Buffalo Barbie for being amazing and helping us navigate this space. T'igwicid to Carissa Mosley, Anesti Vega and Michael Blasky for putting this film together so quickly. And great big thanks to BAAITS for welcoming us into your space. We love you.