Everybody needs some Sho Sho in their life. This otherworldly fashion designer adorns your body in ancestrally timeless haute couture while enriching your spirit in natural wonderment. It's as if her work comes from the dream world, and those of us here on earth can only marvel at its origin as we're overcome with desire to be enveloped, caressed by its beauty. For real: I've seen grown women burst out cooing about her creations just as you'd see an adorable baby taken with something irresistibly attractive and pleasing.
You get what I'm trying to tell you: Sho Sho Esquiro is the real deal; her work is dope, and you should know about her, buy her clothing, and definitely check out her upcoming show in Vancouver, BC.
I've been Sho Sho's secret admirer since 2011 when I saw her runway a salmon skin gown at an N7 event in Portland. I've been liking all her posts, collecting everything I can get my hands on, and breathlessly witnessing her erupt as one of the most celebrated contemporary fashion designers in Native America.
I'm sure you can imagine my giddy delight when I recently found myself a guest in her Vancouver home studio. With her design and fabrication table overflowing with intricate beadwork, fine furs, and delicate fabrics, I finally had the opportunity to photograph Sho Sho and hear her story:
Sho Sho is Kaska Dene and Cree. She grew up in a village of only 300 people. Her people's territory is commonly referred to as "the bush", renown for producing hard-core, hard-working folks. Her core indigenous values and creative inspiration were acquired in the bush and root her high fashion to a fierce traditional work ethic with the highest aesthetic standards.
At eight years old, she got one of her first lessons as a designer as she watched her Auntie sew a beaver hat for her Uncle. Her Auntie made sure that each stitch was done as expected - the seams tight and unbreakable to protect him from the harsh winter conditions of the Yukon - but also with such attention to proportion, appearance, elegance.
"Up there, we really have to produce quality work. That is where the couture came in for me, which is kind of a white-man word; for us, it just means quality."
Her family's uncompromising principles and industriousness have propelled Sho Sho through her great successes as a designer. Sho Sho's work has been exhibited in museums around the world, while her designs have earned her numerous industry awards and have shown on the prestigious runways of Couture Fashion Week in New York City and the J Autumn Fashion Show in Paris. In each piece she makes, she works from her indigenous foundation :
"My relatives taught me to be mindful of the intention that I am putting into the artwork. They told me to strive for perfection. If it isn't [sewn] right un-pick it, and do it over again. Our people are really particular. Sometimes I would have work that my sewing teacher would tell me is okay, but my aunties would tell me to re-do it. Because if you're sewing something for somebody, and it's 30-40 degrees below zero outside and their clothes are defective, somebody could get hurt. They could literally lose a finger from frost-bite, so everything has to strive for perfection."
Below: Sho Sho Esquiro for Project 562 with badger fur.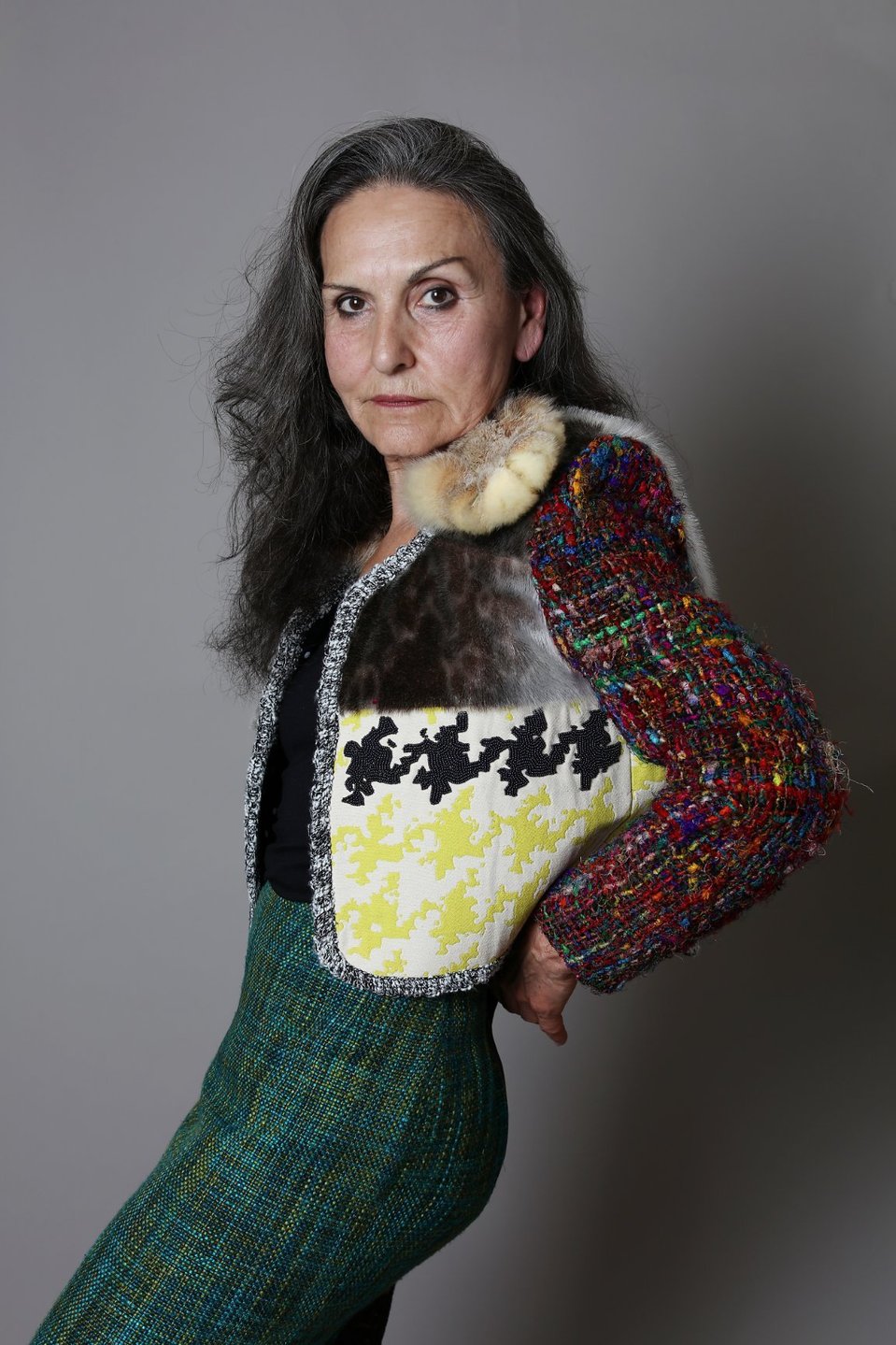 Above Left: Best of Show -"Halcrow". Made out of salmon skin, carp, beaver tail, cowhide, stingray, cotton, lamb and rooster feathers.
Above Right: 1st Place and Best of Division - Made of seal, lynx and 24K gold. Dedicated to Grandma Grace and to remembering all mothers and grandmothers.
During our conversation, Sho Sho pulled out one stunning handmade creation after another to show me: vibrant colors against fur trim, bold patterns, organic fabrics and indigenous harvested leather adorned with traditional Cree and Dene beadwork. Such pieces at this summer's 95th Santa Fe Indian Art Market won her First Place, Best of Division, and Best of Show.
When I asked her about her artistic process, Sho Sho explained:
"Everything comes organically. I can't just sit down and stitch things out. I find the fabric first. I figure out what I want to make from that. I can't rush anything. Things happen organically. I put a lot of prayer into my work. When I'm using animals, I'm giving thanks and prayers for that relationship. It's an organic process of trust. You know, if you research Kaska people, you won't find a whole lot of information. What we wore 100-200 years ago. I'm kind of figuring that out on my own. It gives me a creative freedom. There aren't a lot of resources. In reality, I'm a Kaska woman and I'm doing my art. There isn't a right or wrong way. We're evolving with everything and that is reflected in my work."
Her most recent collection is incredibly special and powerful, created over the last year following the loss of her grandmother, Grace McCallum, to Alzheimer's. During Grace's struggle with the disease, Sho Sho cared for her while she created her art, pouring love and prayer and intention into each stitch. Sho Sho has dedicated this extraordinary new collection to mothers and grandmothers.
"It was a great blessing in being able to take care of my grandma and make art. In our Native culture elders are everything. As much as people would say that I was helping her, she was helping me … It's just been a year since we lost my grandmother. In my tribe we put away everything of theirs for a year. It's been a healing process for me. We're not supposed to be so sad. We put all of that energy into our work. I'm a self-employed artist, so having the luxury of taking a year off was not something I could do. Working on this collection had purpose. That grief helped me work through it with this collection."
Sho Sho's new collection will be on view starting October 19, 2016 at the Bill Reid Gallery of Northwest Coast Art in Vancouver, BC as part of the show, Layers of Love: The Wearable Arts of Clarissa Rizal and Sho Sho Esquiro.
"I'm really looking forward to have the platform and to have this show with Clarissa. We're two powerhouse women from the North. It's a real honor because her caliber of artwork is exquisite. I'm just hoping to open people's ideas about art and the ever-evolving indigenous fashion."
Sho Sho's success as a fashion designer and dedication to Kaska Dene and Cree traditions, techniques, and teachings are inspirational, particularly for Native youth -
"I would tell our young people that any opportunity that you're given, you should try to do it. You never know what will come of it. Be respectful of people. Don't burn your bridges. I love to tell people, go to school, go to college, but I'm a dropout. But I still work hard at learning new skills. I feel like I'm in school in my own way. My advice would be to try to acquire all the knowledge you can in whatever you can."
We are so proud of our sister Sho Sho and grateful for the stories she shared with us during our visit with her. We're looking forward to all of her amazing artistry to come! Go Sho Sho!
"Layers of Love", at Bill Reid Gallery of Northwest Coast Art, 639 Hornby St, Vancouver, BC V6C 2G3, Canada. Opening October 18, 2016 at 5pm.
Follow Sho Sho: